ALTHEA X GET IT BEAUTY 10 Sec Fresh Skin Detoxer Review
Been meaning to share this exciting news with you guys, the day i got selected to be one of Althea's Angels! Though i have not been active in blogging about K-beauty products for the past 1 year, i'm so thankful for this opportunity to be selected few out so all the applicants worldwide. This is a miracle and i shall world hard to bring you guys more beauty contents be it J-beauty or K-beauty!
I even have separate tags from them if you guys had not noticed lol
So you guys can refer back to these tags on my blog whenever you need to look up on the hottest trending beauty products in the market! :D
Best email to wake up to!
Thank you so much Althea team!
Before i proceed further would also like to wish Althea Happy 3rd birthday, can't believe it's already been 3 years, i remember attending their 1st birthday celebration party 2 years ago like it was just yesterday!
Limited edition foldable mini books, take your most creative shot with them and make sure to post it on Instagram with the hashtag #AltheaTurns3 to stand a chance to win a trip to Korea!
More details can be found on Althea.com's website. Hurry, posting deadline is till 31st August.
In the welcome box i've received for being part of Althea's Angel Squad, was their new arrival collaboration with Get It Beauty, i know tons of peeps in Malaysia has already been raving about it and i'm abit slow on the updates recently but better later than never because i know personal reviews matters to alot of you out there who are looking to purchase this product but not sure if it's worth the catch or not!
Before i go further into this review, let me explain abit more on Get It Beauty, they aren't just any random K-beauty brand you get online, they are a legit skincare brand that can be found at our local Pharmacy like Watsons! Yes, i found out recently that Watsons carry their facemask range lol, but you won't find this particular face mask on their shelf as it's an exclusive collaboration with Althea Korea, so the only way you can get your hands on them is via Althea's website.
There are no current resellers or distributors so don't be fooled into purchasing them on other platforms claiming they are originals, etc.
ALTHEA X GET IT BEAUTY 10 Sec Fresh Skin Detoxer
Rose
Green Tea
There are two scents available for ALTHEA X GET IT BEAUTY 10 Sec Fresh Skin Detoxer mask, and this is the first time in my entire life coming across a facial mask that requires minimal amount of soaking time before removing because most of them are usually 5-10 mins (sheet masks) and the fastest i've came acrossed was probably 30secs (Kanebo Rose Foam mask), so 10 sec is definitely a world beauty record for me lol, i can easily apply it while i'm shampooing my hair and wash it off at the same time!
I can never understand how some girls can so rajin to apply mask sheet every night before sleeping, i know that beauty upkeep comes with dedication but lest's all be honest here for abit, who likes the feeling of something on their face everyday?? I don't mind once or twice a week but daily is too much! That's why i would recommend wash off masks like this which only requires 10 sec of your life to get it over lol, and this mask leaves your skin feeling super fresh & smooth after each session.
A mask i don't mind using daily before it's effective and not time consuming. I've tested it out on the danna as well (guys aren't really into all these beauty stuff haha) but he agrees that this product is quite good, skin feels like a baby's bottom for a day lol.
The texture reminds me of honey, it's sticky consistently spreads easily on your face without falling off, and in circular motion it lathers up like a normal facial foam wash.
It has bits of roses & green tea in it that creates a gentle like scrub without drying out your skin.
You don't need much for your entire face too, probably a 20-50 cent size on your palm is enough to spread it all over your face (and neck! Don't forget that area!) and a tube if used daily can last a month and a half or more. For me at the moment i only use it on alternate days so my tube is still 70% full after 20 days haha.
But overall i'm a super satisfied user of this 10 sec wash off facemask, Thank you Althea & Get It Beauty for inventing something genius like this.
Those who are wondering what kind of skin type i am, I'm actually a combination (oily T-zone) & super sensitive (thin skin with very obvious blood veins all over). This face mask is suitable for all skin types, locking in moisture and balancing back your skin making sure it does not secrete excess oil (this usually happens because your skin is dehydrated!).
But face mask plays only one part in regulating back your skin condition, make sure to have a suitable skincare regime that compliments your skin preferably natural type without harmful chemicals in it, you can check out my current recommended skincare
HERE
.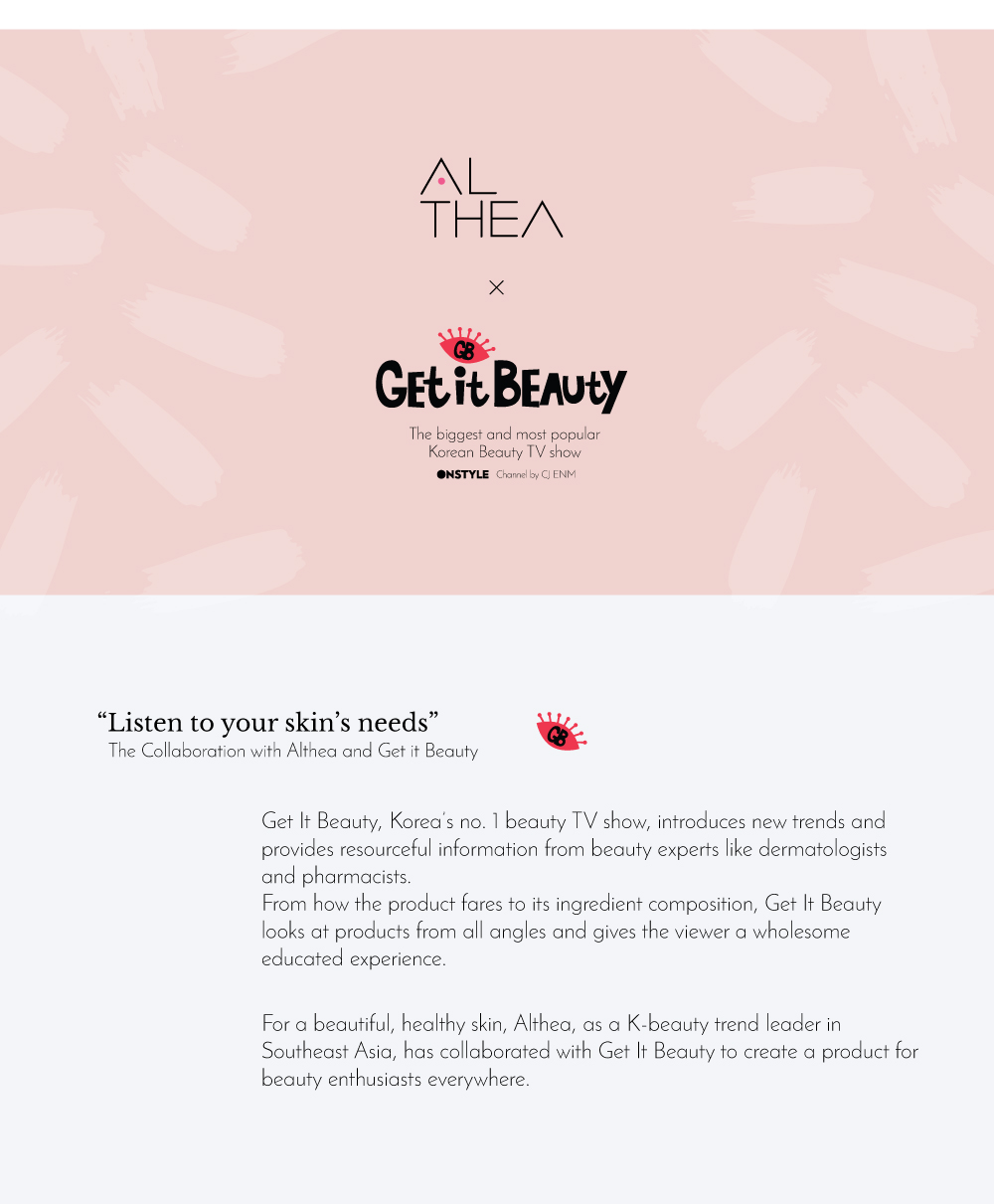 Do hope Althea keeps up this collaboration with Get It Beauty for other innovative skincare products, i don't mind buying to try them out because i'm so impressed with this.
Seriously if you guys don't know where to get affordable Korean skincare or make up, head over to
Althea
today, you won't regret it except you might blame me for making your wallet dry haha!
They ship worldwide and provide free shipping with a term & condition, I got my parcels delivered to Japan rather quickly (within 1 week) upon placing an order, can't wait to update my next post on my latest Althea haul :D
Get the Detoxer set today from
HERE
There's a current ongoing 10% discount for it too, while stocks lasts!
XOXO,